We Look At Soundcast's Latest Offering
Here at Sound Designs we often get new technology to try out and today is no different. Chris couldn't wait to open this one when it arrived through the door. The Soundcast VG7 is a high-end outdoor Bluetooth speaker that is rechargeable as well as portable. It boasts 360 degree sound using four 3″ speakers, one on each face of the unit that provide the mids and highs. There is also one 7″ long-throw sub-woofer at the bottom of the unit that provides the lows. All of this is well presented in an excellent looking bit of kit, I think you'll agree!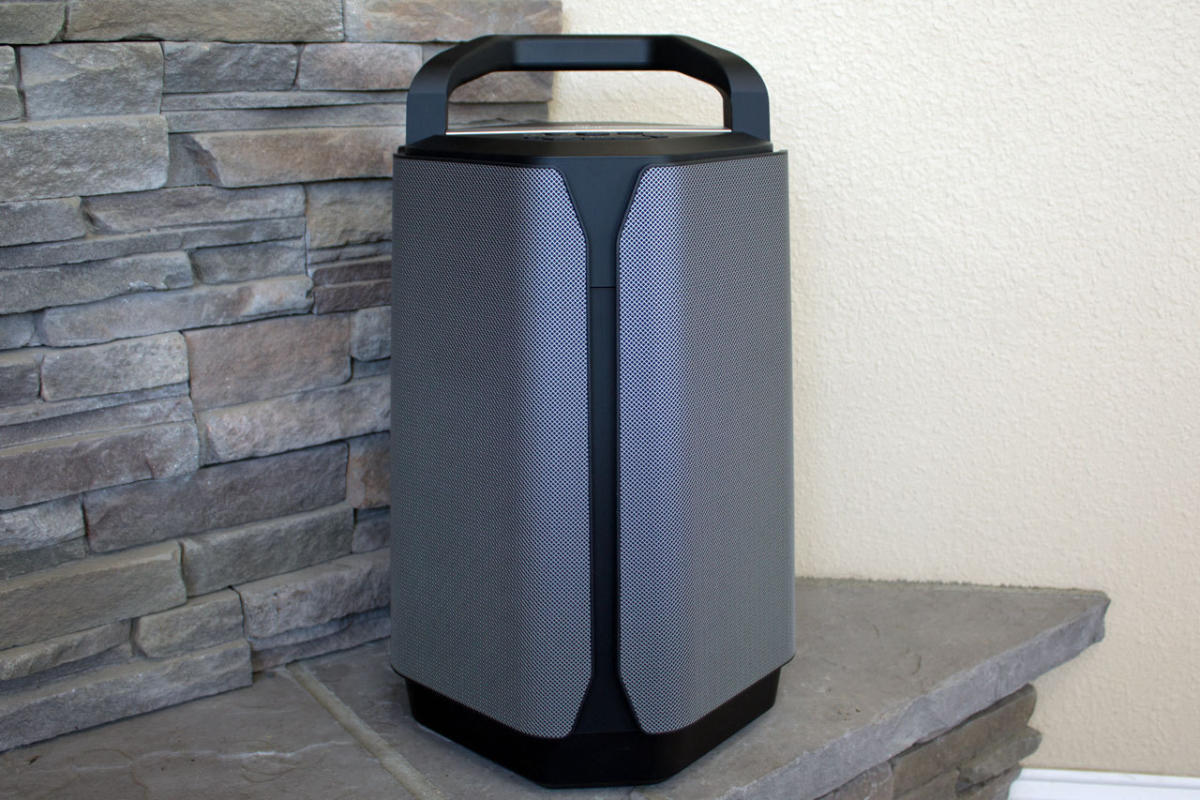 Features And Specifications
Overview:
Pair Two VG7 Units for TWS (TrueWireless™ Stereo) Configuration
Indoor and Outdoor Audio Modes
Weather Resistant Enclosure
Stream High-Def Audio via Bluetooth® (+NFC Pairing) with aptX™ and AAC
On-Board Track and Volume Controls
External Auxillary Connection
4 Discretely Enclosed Speakers for Immersive 360o Sound
7″ Subwoofer
Long Life Rechargable Battery
Drivers:
One 7″ long-throw woofer in a downward-firing configuration withhigh efficiency BL ferrite motor design for increased battery life and high-performance IMPP cone with butyl rubber surround
Four 3″ full-range drivers in a stereo 360º array with high
SPL Neodymium motor design, aluminum cones and butyl
rubber surrounds
Acoustic frequency: 55-20kHz +/-3dB
Amplifiers:
Subwoofer Amp – 30W RMS, Class-D
Stereo Amp – 15 X 2 RMS, Class-D
Battery:
Rechargeable internal battery with external AC power supply
Play audio via battery or while plugged into AC power
DC power via optional 12VDC power adapter
Power bank to charge USB devices
Technology:
Built-in Bluetooth 4.2 technology with 8 memory slots
NFC auto device pairing (with Bluetooth)
Qualcomm
TrueWireless™ Stereo (TWS) Circuitry
Bluetooth hi-def AAC and aptX™ codecs
Proprietary 24-bit DSP
Auto muting
Connections:
Aux input 1/8″ (3.5mm) mini jack
AC/DC power input
USB charging output
Weight & Dimensions:
Diameter: 28cm
Height: 48cm
Unit only weight: 9.5 kgs
Shipping weight: 11.8kgs
Our First Impressions
Our first impressions of the Soundcast VG7 are very good. We are still currently undergoing more thorough testing, but initial thoughts from all of us in the office are that it's a fantastic bit of kit. For it's size it's surprisingly loud but not only that it sounds very good as well. No matter what position it is placed in it fills the room very well thanks to its 360 degree sound. Bluetooth pairing was incredibly easy and works pretty flawlessly. We still haven't had to charge it since it came out of the box even after multiple hours of testing. We will write a more detailed update once we have finished testing but for now check out our unboxing video below.
For any enquiries please don't hesitate to contact us either through the contact page or call us on 01604 211200